Talking with Ms. Thomas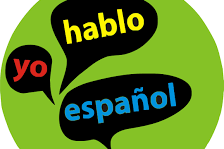 What do you like about being a Spanish teacher?
"I like that people can leave with the skill that they walked in not having. I like seeing the growth and later on being able to read and write in Spanish, leaving with a skill they didn't have before."
What education did you have prior to this?
"I went to two community colleges because I wanted to play softball for them. My degree is in PE and Health, and when I first got hired I did PE and Spanish, and liked Spanish more.
What's one thing no one knows about you?
"I wrote a series of children's books for my nephew and he took them to school and the librarian put them in the library for other kids to check out."
What's  your favorite thing to teach in school?
"My favorite thing to teach is the family marrying because I enjoy when everyone participates. I also enjoy teaching the colors with balloons and telling the story of La Llorona."