Water Crisis!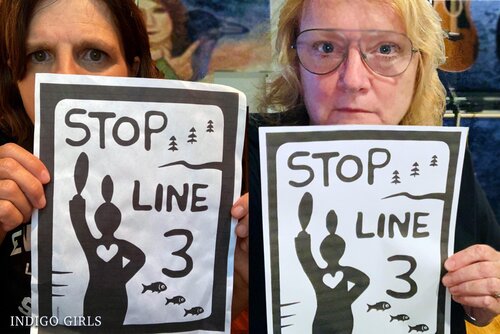 Pipeline 3 is an existing pipeline stretching from Alberta, Canada to Superior, Wisconsin. It ships crude oil tar sands to and from the areas listed, including crossing over the Leech Lake and Fond du lac reservations violating the 1855, 1854, and 1842 treaties made and meant to be honored. The first Line 3 was built in 1961, had several leaks, spills, and was left abandoned.  
Now a new line 3 has been made in efforts to replace the old one all while sweeping company Enbridge Energies' past transgressions under the rug. With their media team and "generous donations" to help give their goals an extra push, the company has done an excellent job being able to bounce back from their past failed projects and the risks they put on others including their workers.
But the tar sands industry has been declining for years which helps us understand why they have done so much to keep going despite environmental (construction and spill) impacts, treaty violations, previous project abandonments, Minnesota State Police corruption, and human trafficking water protectors there to defend their rights to their land. 
Economically, we have no need for tar sands, it has been known for years that we have gradually switched to renewable energy for environmental and financial reasons that needed to happen if we wanted to continue our lifestyles in a safer and easier way. It seems like companies Enbridge's only agenda is to expand their control and gain more profit, and even less regarding quality of human life.
Enbridge has paid off Minnesota Police Department with over $2 million worth of firearms to help "protect and enforce" company Enbridge's project. 3 men working on the site were caught and never tried for attempting to human traffic women / young ones peacefully protesting the build. Over 1,000 water protectors arrested on faulty charges with bail $10-25k making it almost impossible to help both the people arrested as well as the rest of the protestors. And when people did get released, officers looked for any reason to contain them again, beating them, a group to one, a fight that could never be won individually. 
Their goal is making people give up hope, separate, instill fear, to empty people's pockets so they have nothing left to give. This pipeline accesses over 80% of our water. So, if this pipe burst from now to 2051, and it will, it will be the Flint, Michigan story all over again but nobody will be able to stop it from happening all over the country.  
Resources against line 3 are at: Stopline3.org to take action, and help hold Enbridge Energy accountable.