Governor Jay Inslee Updates Covid Restrictions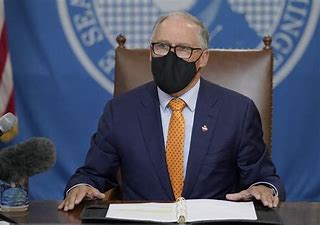 Washington, like many other states, is racking up more daily Covid-19 cases than the ones in spring and summer. A spokesperson for Governor Jay Inslee will neither confirm nor dispute reports of new Coivd-19 restrictions prior to his announcement of additional potential restrictions. These restrictions include a ban on indoor social gatherings, indoor services at restaurants and bars, and closures of businesses. Up to 25% occupancy is to be set for retail stores, grocery stores and convenience stores and bans are to be set upon indoor seating, delis, and salad bars.  
"The governor's office is looking at some possible restrictions so we can get the COVID cases down again," president and CEO of Washington food industry association told Seattle Times, after state health officials recorded a whopping 2,233 new cases which brings the total to 127,731. Governors Inslee, Brown and Newsom of Washington, Oregon and California issued recommendations to limit travel unless necessary, such as traveling for business reasons, medical care etc. to limit further spread of the disease.  
Update: Gov Jay Inslee has confirmed and put these orders into place on November 16th, Monday at 11:59. These orders will remain in effect until December 14th.