The Future of D.C. is "The Squad"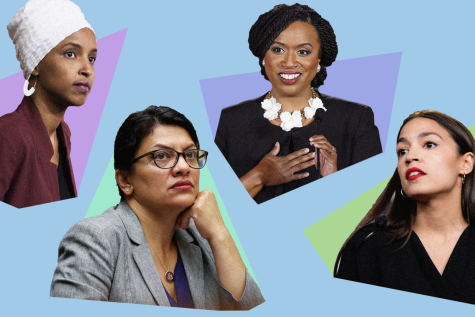 Since November 3rd, when ballots were cast across the country and began to be counted, historic strides in American legislature and representation have been accomplished.  
One of the most notable events was the reelection of "The Squad": a quartet of Women of Color in the House of Representatives including Alexandria Ocasio-Cortez, Ilhan Omar, Ayanna Pressley, and Rashida Tlaib. Their presence is growing as well, welcoming a new member, Representative Cori Bush of the First District of Missouri.  
The Associated Press called Bush earlier this week on Election Night, making her the first Black woman to represent the First District of Missouri, as she held 78.9% of the vote.  
The majority of the House, Senate, and Washington's highest offices in general, have been known to be occupied mainly by white men. It is not uncommon to hear the sentiments of marginalized communities express their efforts to support any person who will accurately represent and advocate for them. Bush is a celebration for many of these citizens.  
The Senate currently has 48 Republican, 46 Democratic and 2 Independent seats called. In the House, AP reports that Democrats hold 214 seats while Republicans trail slightly behind with 195.  
Even more importantly, Joe Biden has been called as President Elect. Although the Trump Administration is gearing up to take legal resistance in challenge of Biden's defined win, margins continue to separate between the candidate and elected as votes are still being counted, mostly in favor of the newly elected President. 
Democrats were expecting a blue landslide in this year's election. However, the results failed to reflect predictions. An opposite super majority was expected, but remains far from accomplished, though Democrats hold a slight lead on the Republican party in the House.  
A lot of Democratic leaders have spoken on unity and bipartisan action while campaigning. The time before midterms as well as the next four years will speak to if these promises will be kept.  
"The Squad" in particular, have lobbied and worked through grassroots campaigning to push agendas for their direct communities.  
Since her victory over former 14th district representative of New York, Joseph Crowley in the 2018 primaries, AOC has been known for her fierce advocacy in policy changes from Medicare For All to The Green New Deal.  
Rashida Tlaib pioneered as the first Muslim woman to serve under Michigan State legislature. She has continuously opposed tax breaks for the wealthy and major corporations as well as supported funding and investing in citizens, especially those of lower socioeconomic backgrounds.  
Ayanna Pressley was the first Black woman to serve in the House for Boston by defeating 10-term incumbent Rep. Michael Capuano in the 2018 primaries. Unlike AOC, Pressley was a known insider to politics. She is, however, a well-known liberal. Like her constituents, she pushed to abolish ICE, claiming it as irreparable.  
Ilhan Omar, representing the Fifth District of Minnesota, is an immigrant from a war-torn Somalia and the first woman to wear a hijab in Congress. Omar has pushed for improvement in the education system, student debt relief, and the recreation of a just immigration system among other policy-change movements.  
Through their reelection, every congresswoman has proven one thing: true representation. Not a face value check mark for diversity within the belly of legislation, but the makings of positive disruption and brute persistence for proper reflection and fights for legitimate progress.  
The American people can only hope, vote, and pray for this necessary change.