Sunday Night Football In The Desert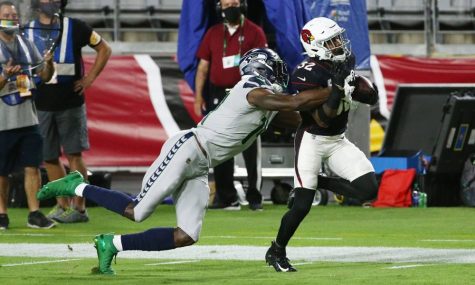 There was a minor change of the week eight schedule in the National Football League. The NFL announced Thursday that the Seattle Seahawks matchup with the Arizona Cardinals in Phoenix, Arizona would be moved from 4:05 PM ET (1:05 PM PT) to 8:20 PM ET (5:20 PM PT). The Seahawks entered this matchup undefeated at 5-0 while the Cardinals came into this matchup 4-2. Good news for Cardinals fans and sad news for Seahawks fans because the Arizona Cardinals defeated the Seattle Seahawks 37-34 in overtime on a game-winning field goal. This snaps the Seahawks undefeated run. Turnovers plagued both teams, but the key turnover was the interception thrown by Seahawks Quarterback Russell Wilson to the Cardinals Rookie Linebacker Isaiah Simmons in overtime. Which led the Cardinals to drive down the field and eventually kick the game-winning field goal. That was one of 3 interceptions thrown by the MVP candidate Sunday night. There were about 3-4 times where I thought the Seahawks had this wrapped up, but turnovers opened the door for Kyler Murray and that explosive Cardinal offense. Next up the Seahawks will be back at home to take on the San Francisco 49ers, while the Arizona Cardinals will have a bye week before playing the Miami Dolphins in two weeks.
UPDATE: Seahawks defeated the 49ers 37-27 on November 1st. Russell Wilson continuing is dominance and run for MVP with 261 yards passing and 4 passing touchdowns. Seahawks (6-1) will be traveling to Buffalo to take on the Bills (6-2) Sunday November 8th at 1pm ET (10am PT).