T'wina Nobles' Race To Take The Seat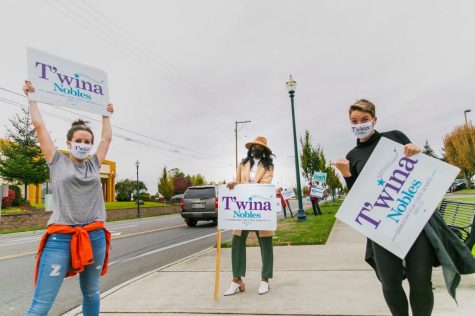 For the first time, Steve O'Ban is facing serious obstacles in the bid for reelection. Steve O'Ban, Washington State's established Republican state senator, is being challenged in this year's election by a woman named, T'wina Nobles. Nobles is a Democratic candidate who is leading in the polls, slightly ahead of O'Ban.  
Since 2013, O'Ban has held office. His current campaign has centered around topics such as funding education, supporting small businesses, prioritizing veterans, and solving local infrastructural issues.  
Nobles, however, is holding a close run on O'Ban. The political climate, call for social justice, and partisan divide play critically in Nobles' campaign.  
Nobles' story begins in Germany. Her parents were stationed in Frankfurt during the early years of her life. Later, she spent time in Ft Benning, Georgia.  
From her personal experiences, Nobles has deep rooted connections with the military, even playing a role in deciding her current residence in Washington. Her past husband was stationed on Joint Base Lewis-McChord, exposing her to the Lakewood-Tacoma region, Peirce, and neighboring counties.  
Although her parents were service members, Nobles, from a young age, was faced with disparities in homelessness and poverty. After surviving abuse, she entered foster care at the age of 18.  
Her obstacles have undoubtedly influenced the policies she is fighting for in her campaign: She has led and been of service to fighting poverty in Pierce County and neighboring places.  
After graduating at University of Puget Sound and receiving her Masters in Teaching, Nobles directly worked in the public school system.  
She served as an instructor for Metropolitan Development Council's College Bound program at both Lincoln and Stadium High School, providing assistance to, "prepare students for college, and to help them become healthy, well-rounded, and empowered individuals." Nobles has also been elected twice as the School Board Director of University Place.  
Nobles has been given the role of president of the Tacoma Urban League as well. Her dedication for socioeconomic justice has and will play a key component of winning over voters. Her work has focused on youth and supporting schools for fostering emerging leaders. 
Just days out from the election, both candidates' campaigns will be working more than ever to ensure their success.