Swinomish Train Derailment Update!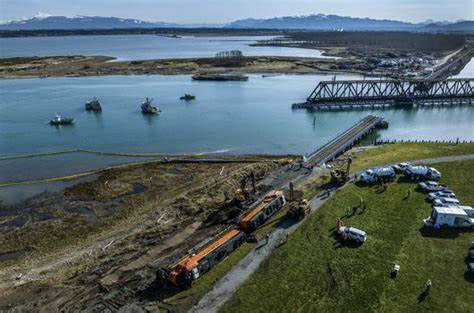 Friday morning March 17th a BNSF train derailed on the Swinomish reservation here in Washington. The train was carrying thousands of gallons of diesel and around 3,000 of those gallons spilled out of the train cars. There have been some updates to this situation as it has developed.
The Environmental Agency tested the water and soil and found contamination. They had to pump out 3,000 gallons of groundwater that had been contaminated with diesel. Along with the ground water they removed 1,200 cubic yards of soil that had also been contaminated. The environmental agency will be monitoring the soil and water for up to a year making sure that there are no more traces of diesel found.
The cause of the derailment has been determined, a human error. On the bridge the train was crossing there are devices called "derailers" when the bridge is open these pushed the train off the tracks onto the land, so it does not fall into the Puget Sound. A lack of communication caused one of the derailers to still be on which is what caused the train to fall off the tracks.
A trial is started Monday March 20th based on a lawsuit filed by the Swinomish reservation in 2015 against BNSF. The lawsuit states that BNSF drove trains through the reservation that were containing highly combustible crude oil, without the consent of the reservation.
For more information on this story visit
Contaminated groundwater found in train derailment on Swinomish Reservation | The Seattle Times
Officials: Safety device, human error derailed Washington train – The Columbian