BUFF PUFF 2023
Buff Puff was one to remember! Our wonderful ASB has set a tradition of the event Buff Puff. This event is a volleyball game of junior boy against senior boys. Anyone within these two grades is welcome to sign up and play! The teams can hold private practices beforehand to develop their teamwork and skill before the big night. During this event there are concessions sold, lots of music and there were even games played by the crowd in between sets to win gift cards!
The student section killed it, giving so much energy to the players. The stands were decked out in orange and blue in support of either team, juniors or seniors. The game went into 4 highly competitive sets. The juniors thought they had it in the bag after winning the first 2 sets, but the seniors came back strong for the third set and won. Bringing it to the fourth set gave the seniors a chance to make a comeback. Luckily for the juniors, they held their own and won the fourth set, winning the game!!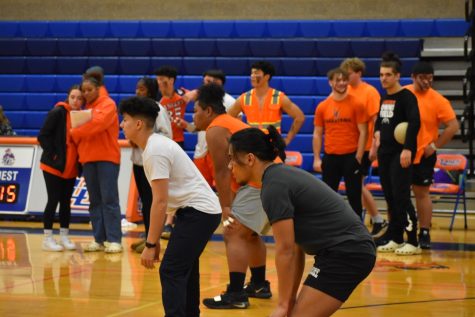 Everyone had the expectation that the seniors would win, due to their win last year. However, they didn't bring the same competition this year. It was good to have a surprise, it kept the crowd on their feet and excited.
Lakes ASB did a great job planning for Buff Puff, they were able to sell so many tickets resulting in an huge turn out from the student body! Our ASB president, Carly Sherman did an awesome job hosting! She brought energy to all the games, making people want to compete! Also thanking Omar Arroyo for being the DJ for the night. Not to forget the ASB advisor, and Secretary Mrs. Harrell and Mrs. Yearsley. They both do so much for school events! The whole team created such an inclusive environment which made everyone have fun and enjoy their night! It was so cool to see all our students as one having a good time cheering for their class.