Boys Curtis Vikings Repeat 4A State Champion Title Against Olympia Bears
The Curtis High School Vikings have won the 4A WIAA boys state basketball championship against Olympia High School Bears 49-43. This is the second year the Vikings have won state, with Curtis defeating Mount Si High School last year 52-49 in a heated overtime championship match. Their state title was repeated, but not without the immense efforts seen through all of Curtis' players this year. With the Tacoma Dome packed, this game was exhilarating and closed off the 2022-2023 basketball season nicely.
Curtis' 5-star recruit Junior guard Zoom Diallo is seen as one of the best high school basketball players in the country. Averaging about 19.9 points per game, he did not hold back during the championship. With Diallo scoring 21 points this game, he represented his team well and carried them to a victory.
According to an article from the News Tribune, Diallo dedicated this victory to his dad who is currently hospitalized for high blood pressure and kidney failure. Saying in an interview, "The fact that he wasn't here really hurt me. I did it for him." "Before today's game, I went to go see him, and he just told me to put on a show for him. I felt like I did that, I was thinking about him throughout the whole game."
With first place remaining in Curtis' hands, Olympia taking second, and Federal Way taking third, all teams played wonderfully and was great to watch.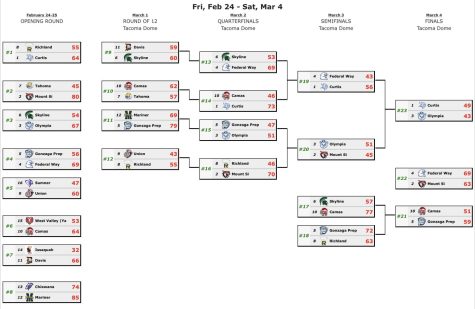 Along with the 4A standings, Garfield beat O'Dea 69-50 for the 3A boys state title. With Mt. Spokane placing second and Bellevue placing third, all games were played rigorously.
Sophomore guard Legend Smiley was surely the MVP of the Garfield v O'Dea game. With Smiley dropping 30 points, he helped beat O'Dea for a fourth time this season and carried them to their state title. Smiley stated in an interview, "I showed people I can score, play defense and showed I can play a role for my team and win for my team."