Suspected DUI Driver Arrested in Tacoma after Ramming into Santa Parade!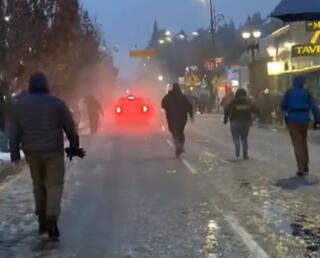 Tacoma police on Sunday December 3rd arrested a 74-year-old man suspected of driving drunk, going through a barricade onto South Tacoma Way where a Santa parade was just getting started. The car came to a stop on northbound South Tacoma Way just south of 52nd street. Police reports suspect the man's actions were unintentional and caused by his drunken state and not meditated. 
Bystanders screamed and ran after the vehicle as it went up the road. Hannah Clavi, a University Place resident, said her husband and daughter were in the parade, and she was waiting with other family for it to start when the car came up from behind them. She said the driver was going slow at first, but then accelerated and slowed down several times as others went and tried to stop the car. "It hadn't started yet, so a minute different and things would have ended up very different." says Clavi.