Lakewood Towne Center Shootout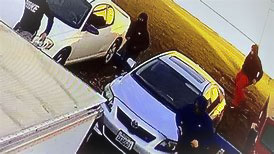 At around 4:30 yesterday afternoon (Monday November 14th), a black Chevy Tahoe with distinctive rims and running boards was seen in the parking lot of Tveten's Auto Clinic. Shortly after 4 suspects got out of the car, minutes later shots were fired, as of now only one victim has been injured in this altercation, a woman hit with a stray bullet. A car had been shot at in the intersection resulting in a crash throughout the intersection, blocking the roads. During this moment of panic our 4 suspects ran back into their car and fled the scene. The Black Chevy was seen hauling away with a blue towel covering the license plate, and as of now has yet to be caught. 
Police, swat, investigators, and a helicopter arrived on scene a few minutes later, shutting down the road, and many businesses to go into a lockdown within a mile of this panicked area. If you have any information or happen to see this vehicle, please call (253)-830-5014 or dial 911 with your whereabouts. Pryer to this altercation that same Chevy Tahoe was scene during a shootout at around the same area. As the investigation continues, the intersection of Towne Center Blvd and Bridgeport Way will be temporarily closed. Please avoid these areas and use alternate routes.