Lakes Cross Country Heads to State!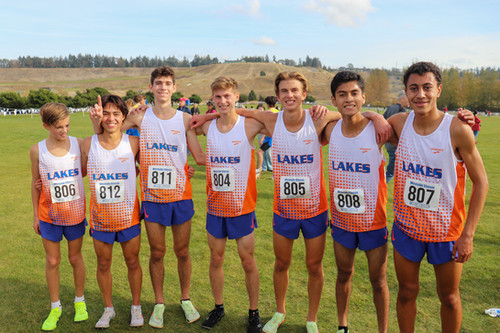 October 29th at Chambers Bay the districts cross country meet was held. We had approximately 90 teams come. This was the race that determined whether we made it to state or not.  There were many supports and volunteers helping with the course, selling shirts, or helping with food trucks. We had multiple runners PR on this course despite it being windy and cold. Top 49 make it to state or if girls and boys team got top 7 as a whole team you all qualify.
On the boy's side the whole varsity team will be qualifying for state. They got first and became district champions. Cruize Corvin got the meet record and now holds it for the second year in a row. They all had an amazing race, and they will be heading to state. On the girl's side they placed tenth, but we had 2 girls individually make it, Opal Johnson and Gio Robles. Even though the rest of the varsity girls' team did not qualify they will still be going on the trip and supporting all the runners. Friday morning were having our traditional sendoff breakfast at Burs and then will be on the road!