The freshman on varsity soccer
The Lady Lancers Varsity soccer team is making a comeback this year, having made the playoffs for their division, with an overall record of 7-2-3, the team has a total of 7 seniors, 6 sophomores, 1 junior and 3 freshmen, all those freshmen being frequent starters on the field. Braelyn Carey, number 30, a starter and a striker for the team, In the past has also played volleyball, track, and occasionally snowboards. She has been playing soccer ever since 1st grade and is currently playing for the Steel United soccer club but is hoping to transfer into Crossfire next year. When asked what she wants to do after she graduates, she said "After I graduate, my dream college has always been NYU. I love New York and studying and just doing what I love there sounds lovely. I want to major in art of some kind or literature or maybe even law If I get the chance." Some of her hobbies include reading, playing guitar, crocheting, and says that she enjoys shopping at cute shops.  
Number 17, Kendall Griffin plays as a Midfielder for the team, along with playing soccer she is also a baton twirler. In the past she's done other sports like gymnastics, tennis, ballet, basketball, track and wrestling. She is also currently playing club softball. When asked what her plans were for after high school she replied saying "After I graduate, I hope I can play soccer in college, and I think I want to be a physical therapist." And when it comes to her hobbies, she says she doesn't have many outside of sports, but she does however really enjoy Taylor Swifts music. And something fun she says many people wouldn't know about her is that when she's older she wants to open a Mac and Cheese restaurant. Finally, the team's goalkeeper, Savanah Newville a freshman starter and the only official goalkeeper for the team. Shes had a total of 5 shut outs and countless saves. In the past Savanna has played Basketball, Softball, and Baseball. Shes been playing soccer for 2 years and participates in club softball. And when asked about her plans for after she graduates,
she replied saying, "I want to either play college softball at Udub or attend Harvard, either way I want to go to medical school to be a cardiothoracic surgeon." Savanah is also in chamber choir and loves working on boats, she enjoys surfing, wakeboarding, water skiing, and tubing. With the combination of returning players and new freshman joining the team this season shows to be promising for the team.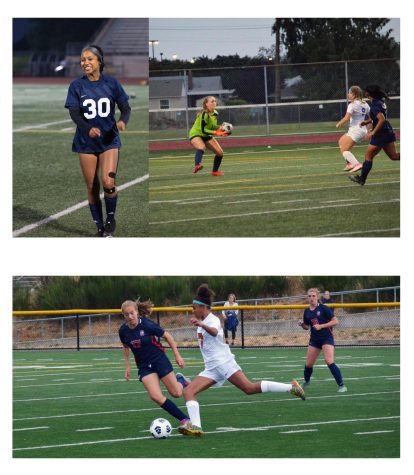 The Lancers defeated Bainbridge Island on Saturday and meet Stadium at Scott Nordi Field on November 1.