The Black Experience in Ukraine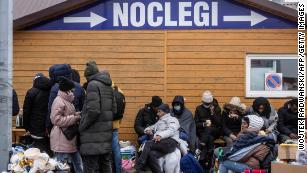 Most Americans are aware of the tragic ongoing war between Ukraine and Russia, but many are unaware of just how many people's lives have been disrupted and displaced through conflict. Over 3 million Ukrainians have currently fled the country, often to the bordering countries of Poland, Romania, and Hungary. Even more unknown is little documented struggles of Africans, particularly African college students living in Ukraine. Black Ukrainians often face barriers of rampant racism while trying to leave the country, from being prevented to boarding trains to being called slurs and other discriminatory names.
The lack of coverage on the black experiences in Ukraine has made it difficult to know about the injustice students and citizens are facing right now at the borders. Several African citizens have reached out to independent news outlets to share their stories and experiences. Grace Kass, a 24-year-old makeup artist who had lived and worked in Ukraine for the past 7 years, claims that as she reached the border in Kharkiv, solders affiliated with the Ukrainian military were separating groups of white Ukrainians from people of color, letting white women and children board trains first. Even more disturbing is claims from African and Indian men, who say they were beaten with batons and kicked by Ukrainian guards before finally being allowed to leave the country on foot. Grace Kass also explains how her, and her African friends were skipped over serval times as train guards gave other sausages and bread before finally being given the stalest end pieces and nothing else. Grace's experience seems to be a common sentiment felt among African citizens and other people of color. White Ukrainians have taken priority at many borders and most Africans are made to wait for many hours, even days with extraordinarily little food and little sympathy from fellow citizens.
White citizens are also prioritized in media coverage. Journalists from around the world have used microaggressions, subconsciously or intentionally while covering the conflict in Ukraine. Statement like "These are civilized people. Unlike conflict in Asia of the Middle East this is Europe, a continent not used to war." These clearly demonstrate bias towards reporting on situations that occur around white individuals and devolved nations. There are still wars being fought in Sudan and Libya as well as in the middle east that have gone on for years that still deserve the same amount of media attention as conflict going on in Europe, however are often largely ignored by western media.
There have been numerous efforts within African American communities in the United States to raise funds assisting black students in Ukraine. Black Women for Black lives, an organization started on change.org, has raised over $250,000 in funding for food and necessaries to black college students. Black Foreigners in Ukraine and Black Women for Black Lives are also digital organizations are raising funds to provide aid to the escape of black students. Students and adults alike can boost black voices over social media by sharing posts and seeking out coverage of minority struggles and the struggles of Ukrainian refugees through sources like universities and reputable news sites.