In school but still online?
Kyle, Reporter for Lakes high school
January 13, 2022
In school but still online? 
By: Kyle Schwab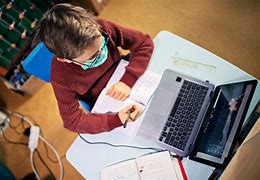 Picture of Kid on skype for school 
This school year has been rough for everyone, that is because we finally came back to school in person at the beginning of the school year. Covid has had a big toll on everyone but it really impacted the schools. At the beginning of the second semester last year, Lakes high switched to hybrid. They thought it would make it better but it only made it stressful for a lot more people. 
There were also these struggles during online school. The main struggle would be attendance because online they could wakeup join the call and fall back asleep, and you would not know. There were so many things' kids could get away with by simply saying the Wi-Fi cut out.  
When we first started this school year, we thought we would forget about online but that was not the case. Coming back in person after 1 ½ years of skipping school and getting away with it and now there in person doing the same thing. This year a lot of the school activities have still been online and most of the teachers still do work in teams instead of in person. The student led conferences were online this year. We still have our weekly announcements online as well.  
We want to believe that we have gone back to school in person, but we have not fully converted back over. We are still partly online, and we all notice it, we just think it is normal. The schools try their hardest to push through it but it's hard to push through something that affects everyone.