Omicron Covid-19 Variant
Omicron Covid-19 Variant found in 3 counties in Washington  
 The Washington department of health (DOH) has confirmed three cases of the uprising newest Covid virus mutation. They first had announced it emerging on a Sunday afternoon, December 4, 2021. Image of Omicron Covid-19 strain on the Washington State news.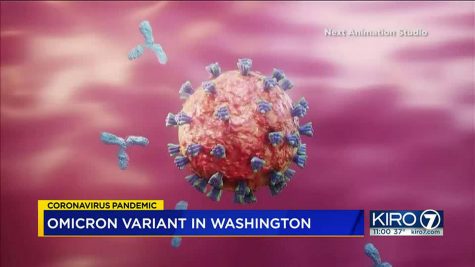 State officials say a man from his 30s in Thurston County, another man in his 20s from Pierce County, and a woman in her 20s from King County are proven to have this new variant. They established this by taking samples from November 29 to December 1st. Making Washington state the 13th state in the United States to have detected the variant. The variant has been detected in at least 38 countries already. There are suggestions that this new Covid strain is way more transmittable. Making it more contagious than the Delta variant.  
    A three-day special session of the World Health Assembly (WHA) had kicked off around Monday (November 29, 2021) to discuss pandemic preparedness and readiness for many concerns about the spread of the new Omicron virus. The WHA usually meets in May, but a special request was put in due to the concerns about having an emergency meeting. The World Health Assembly says that the risk of this new variant becoming global is high and could lead to serious surges with severe consequences. But researchers have not yet determined whether this strain is more deadly or transmissible than the others 
President Biden has urged citizens to start wearing masks again indoors, as it is a habit that has fell off use in most of the country. And for anyone ages 5+ to get the Covid shot, and booster shot 6 months after your second dose. But the president has encouraged people not to worry as much. As he states, "We have more tools today to fight the variant than we've ever had before."                    Still, we should be cautious.  
  Countries around the world have started trying to manage and limit travelling due to this restriction and issue. Several nations have already imposed travel restrictions already in order to keep safety. Moderna INC. The creators of the Covid-19 vaccines have stated "A new vaccine to fight the Omicron strain of the coronavirus could be ready by early 2022 if required.". Doctors state one tale-tell sign of this Omicron variant is night sweats, a highly common sign amongst most people that have gotten the virus.  
   Seattle Mayor Jenny Durkan has a take on Covid-19: "In Seattle, we've launched efforts to deliver tens of thousands of booster shots and pediatric shots before the holidays and are working with our partners to make more appointments available. We continue to have easy, fast, and accessible testing through our partnerships with UW Medicine and Curative. While all of us want the pandemic to be over, we need to all do our part to keep one another and our community safe." – Seattle & King County.