Washington State Bus shortage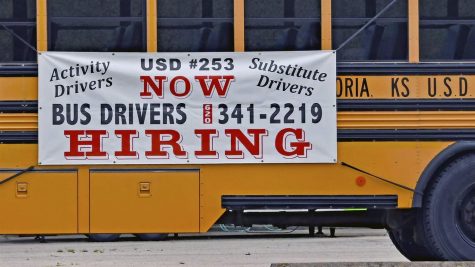 Public schools around Washington have suspended over 100 bus routes due to a shortage of drivers. And some drivers refusing to get the mandatory Covid-19 vaccine. Tim Robinson, a Seattle district spokesperson stated more than 6,700 students could be affected by the cuts. And that is only out of 18,000 altogether.  
 Beginning on Monday October 18, Seattle public schools (SPS) are suspended 142 bus routes. And even students in Bonney Lake and Clover Park are experiencing these setbacks, Bonney Lake school is preparing for delays in getting to school due to the shortage of drivers. Some students though, are worried about how they will even get to school at all.  
Not only is Washington facing this troublesome situation, but districts nationwide are also having the same problems. Last-minute scrambles, and late arrivals are even having retired bus drivers come back into the payroll.  Many families have reported buses showing up late, and some not even at all. Students have missed days of school, or breakfast and important classes. And parents have had to take mornings off work to drive their children to school. One mom from the Portland area states: "They stood out at the bus stop for like an hour and a half, waiting for the bus in the morning," said Veronica Huff, a Reynolds School District parent.  In addition to it being an issue that some bus drivers refuse to get vaccinated, but some vaccinated bus drivers don't want to drive busses with unvaccinated kids and students. This issue also effects athletics and activities at or after school. Mr. Clark, the journalism and cross-country teacher, has stated that some of his members had to wait outside for almost an hour to get a bus for a meet.  
November 16th, I emailed Paul Vigil, who works for transportation at Lakes. He said I was more then welcome to ask him some questions. Here is some Q and A with Vigil:  
How has the shortage of bus drivers affected both Lakes Highschool, and you personally? :  
       Fortunately for Lakes, CP, and HP, the bell times don't affect the actual pick up and drop off of students.  High schools are the first schools in the morning and afternoon, so we have all our drivers that can run the routes.  The issues that we have affecting the high schools specifically, is not having consistent drivers on the same routes every day.  We don't have enough drivers to cover all the routes, so when there is an open route, or someone calls in sick, we use whoever has the time to run routes. Right now those extra drivers are mechanics, dispatch staff, or admin office staff, and although we are all licensed and trained to drive buses, we haven't been driving in years sometimes, so we can be a bit rusty.  Also, when I take office staff out of the office, a lot of necessary stuff doesn't get done.   
  How it Effects him and bus drivers personally: 
       My office staff are literally putting in 12-14 hour days, 5 days a week.  That can be very tiring and taxing on health, moods, family life.  An example.  Yesterday, I left my house at 5:20 to get to work by 5:45.  I left my office at 6:30, arriving home just after 7:00.  My family had waited for me to eat dinner, so we sat down ate dinner together, and 1 hour later I went to bed to start this whole thing over again today.  That is just my story, everyone else is doing the same thing.  On a Saturday a couple of weeks ago, we were working, one of the staff members families came in, and his wife told me a story of there 4 year old daughter asking if daddy lived at home anymore, because he was always at work.  That is how the driver shortage affects me, and my staff.   
  How long do you see this lasting until it goes back to normal? 
I don't see an end is near.  The district has been gracious and our pay rate for drivers is very good.  We are also currently offering a hiring bonus to attract new people.  Training of a new driver takes from 4-8 weeks and the process is not for everyone.  We usually see about 50-60% of new hires that actually become drivers.   
  What are your opinions on it?  
Driving a school bus is in itself difficult.  You have to have a CDL, you have to pass DOT physicals, the license is expensive to keep up.  Bus drivers work a split shift, morning runs, some mid days, and a PM run.  Drivers can spend 10-12 hours a day for 6-8 hours worth of pay.  Then there is driving a 40ft. bus around in the traffic and congestion, especially in our area.  And last but surely not least, the students and parents, which can be a challenge.  At the end of the day, a driver knows they help as they got students to school to learn, but it wasn't without it challenges.  It is hard to hire any employee these days, but with the challenges and restrictions on a school bus driver, we have to find the right fit for the job, and that is always difficult. 
 At the end of the day, bus driving isn't an easy job, at least not during these times. But, without them transportation wouldn't be the same.