Councilor Extraordinaire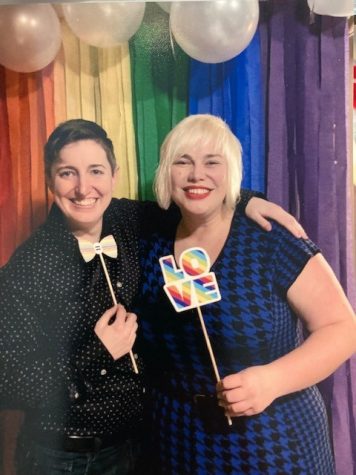 I am a born and raised Washingtonian and have lived in Tacoma my entire life! I met my wonderful wife Liz here, she is active duty Army, and we got married this past fall. We have three tiny dogs, Kimchi, Marge, and Bella, and we love to scuba dive, play sports, and dig in our community garden. I started working as a school counselor almost 10 years ago, and I have loved every minute of it. Helping students find their way is advantageous and gives me great hope for the future of our world! 
Connecting with students has been very challenging this year! It can be easy to isolate yourself when you're staring at a computer screen all day. Sometimes, we don't even realize how much human connection really promotes our mental health and well-being. Emailing feels so impersonal, and talking online isn't the same as being in-person. Still, I have seen so many kids come in for help now that we are hybrid, and I really want to encourage any student to reach out if they need help! We can schedule a time to talk- in person (even if you are virtual, you can come in for an appointment with me!) or online or on the phone- this has been such a challenging year, it's okay to ask for a bit of help. 😊 
Now that the weather is more excellent, I have been going outside as much as possible! These sunny days have been such a wonderful distraction- please do not spend all day on the computer- get out, spend time safely distanced with friends at the park, take your dog to the dog park! School is essential, but so is taking care of yourself, don't forget that school is only a tiny part of your life and day. 
My wife and I are avid scuba divers, so we did a lot of diving during the pandemic! I also love playing Mario on my Switch, reading books written by female authors with female protagonists, and planting vegetables and flowers in the community garden. 
This summer, we will be going to South Korea, so I am very excited to start a new adventure! I will miss my students at Lakes very much, and I'm so proud of all of you! 
I think I am a Scorpio, but I don't believe that astrology signs have any meaning. 😊 
This has been a really challenging year, and I've found it's been a struggle to stay positive. I have been reading Man's Search for Meaning by Viktor Frankel- he is a holocaust survivor. He says that the only thing you can control in this life is your internal perspective; your attitude matters most. When so much seems out of our control and changes are consistently happening, we can always choose what mood we approach a situation with. 
I would encourage Lancers to take care of each other, lean on each other, give each other grace and understanding, spend time together having fun, be creative and silly, show your community how much you care by showing up and showing out!