Trump's words, bullied kids, scarred schools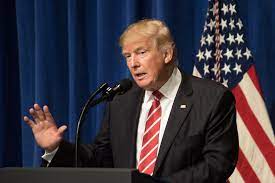 A Washington Post review of 28,000 news stories finds more than 300 bullying incidents linked to President Trump. At least three-quarters of the attacks were directed at kids who are Hispanic, black, or Muslim. Students who support the president have also been victimized more than 45 times. "It's gotten way worse since Trump got elected," says a Mexican American high school junior in Idaho. The White House says first lady Melania Trump has encouraged kids worldwide to treat one another with respect.  Why can't they, first lady says, despite media's appetite to blame her for actions and situations outside of her control? It's a universal problem for children that will be difficult to stop in its entirety, she says. The first lady will continue her work on behalf of the next generation despite the media's appetites to blame the first lady, the White House adds. The analysis represents a small fraction of the actual total of bullying incidents. It also doesn't include the thousands of slurs, swastikas and racial epithets that aren't directly linked to Trump but that the president's detractors argue his behavior has gone worse.
Southern Poverty Law Center survey: More than 2,500 incidents of bullying linked to Donald Trump's rhetoric. In 476 cases, offenders used the phrase "build the wall," in 672, they mentioned deportation. For Cielo Castor, who is Mexican American, the experience at Kamiakin High in Kennewick, Wash., was searing. "I don't feel cared for," she said at a school board meeting after a student unfurled a "Make America Great Again" flag at a football game. "You can't be doing that," she told the instigator, but he ignored her, and the teenagers around him booed her, she recalled.  A photo of the teenagers with the flag appeared on social media, and news about what had happened infuriated many of the school's Latinos, who made up about a quarter of the 1,700-member student body.
Of the incidents The Post tallied, half targeted Hispanics. In one of the most extreme cases, a 13-year-old in New Jersey told a Mexican American schoolmate, who was 12, that "all Mexicans should go back behind the wall" Experts say that discriminatory language can, on its own, harm children, especially those of color who may already feel marginalized. "It causes grave damage, as much physical as psychological," says Elsa Barajas, a Los Angeles mental health counselor. Ayesha Cielo is a college freshman who went to school with a white friend who'd attended a protest and was abused by an underclassman who referred to Mexican students as "f—ing Mexicans" In a message on Instagram, the boy wrote, "It is in the past and everyone has moved on from it"
Miracle Slover, 18, says her English teacher made black and Hispanic students sit in the back of the classroom. Georgia Clark, her teacher at Amon Carter-Riverside, often brought up Trump, Miracle said. Clark, who denies the allegations, is one of more than 30 educators accused of using the president's name or rhetoric to harass students. Even Trump's last name has become something of a slur to many children of color, a Washington Post analysis found. "It means," she said, "you don't belong," Miracle Slover said of her teacher. "Every day was something new with immigration," said Miracle, now 18. "That Trump needs to take [immigrants] away. They do drugs, they bring drugs over here. They cause violence," she added. "They cause violence." The Fort Worth, Texas, school system has denied the allegations and said the allegations are without merit. The school system says they have no knowledge of any incidents involving teachers using the name of President Donald Trump in class.  The day after the 2016 election, a Florida teacher warned a student that Trump would "send you back to Africa," her father says. Just a few days later in California, a physical education teacher told a student he would be deported under Trump. Not always, though, are offenders removed from the classroom. In Texas, a former teacher was fired after she tweeted at President Trump, asking for help deporting undocumented immigrants. The Fort Worth teacher appealed her firing, and the Texas education commissioner ordered her to pay one year's salary. The commissioner cited a minor misstep in the school board's firing process and ordered the school to pay the woman her salary. It's not clear whether the teacher will get her job back, but Miracle says she would do it again, despite the furor. She says she doesn't regret what she wrote about her former teacher, who was fired for sending private messages to the president, but she was forced to switch schools.
Jordyn Covington, 15, was one of nine black high school volleyball players jeered at a game by white fans. The jeers came three months after President Trump tweeted that four minority congresswomen should "go back" to "totally broken" places. The Washington Post found that players, parents, or fans have used his name or words in at least 48 publicly reported cases. Nearly 90 percent of incidents targeted players and fans of color, or teams fielded by schools with large minority populations, it found. The venom has been shouted on football gridirons and soccer fields, on basketball and volleyball courts.
Both announcers were fired after the incident in Kansas. Jordyn Piper's school system dismissed the jeers and countered with a statement supporting her students. It's not just young Trump supporters who torment classmates, one boy in North Carolina says. "They saw my last name as Trump, and we all hate Trump, so it was like, 'We all hate you,' " he says. The boy, Gavin Trump, has come to understand that kids who oppose the president can be just as vicious.  "I love myself and so should all of you," Jordyn wrote in an essay about the jeering at her school. "How are you gonna be mad at me and my friends for being black? I love myself," she wrote. "I love ourselves and so shouldn't all of you."  She finished her essay, then looked up as the class applauded.  "I have no relationship to Trump at all. We just ended up with the same last name," he said.
The Post analysis identified dozens of children across the country who were bullied, or even assaulted.
School staff members in at least 18 states have picked on students for wearing Trump gear or voicing support for him. Among teenagers, the confrontations have at times turned physical. One high school senior said she had to leave her prestigious public school because she felt threatened. "People wouldn't even look at me or talk to me," Jayne Zirkle said. For a fourth grader, the teasing began in fourth grade, soon after Trump announced his candidacy. "This is my name," he said. "And I am abandoning my name."
In response, schools have canceled mock elections, banned political gear, and increased security. They've formed student-led mediation groups and created committees to develop anti-discrimination policies. In California, counselors held a workshop in the library for students to share their feelings about last year's election. In Maryland, a student was caught scribbling the n-word in his notebook the same month as Trump's inauguration…"We teach that we can disagree with each other without walking away being enemies," the principal says. The Washington state school where Maritza, 14, confronted the teen who chanted "Build the wall" has expanded a student club.
Since the class debuted in fall 2017, disciplinary referrals for disruption and disrespect have decreased by 25 percent each school year. Many schools haven't made such progress, and on those campuses, students are bracing for more abuse. Maritza's sister, Cielo, told her to stand up for herself if classmates use Trump's words to harass her.