The Shooting of Jacob Blake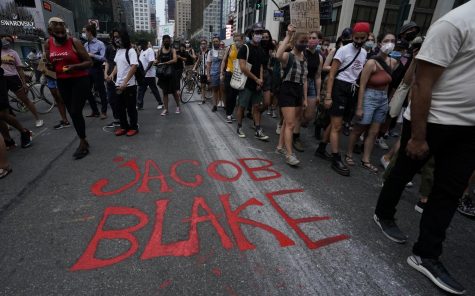 On August 23, Jacob Blake, a 29-year-old Black man, was left partially paralyzed, a white police officer shot him seven times in the back outside the apartment complex in Kenosha, Wisconsin. A neighbor captured the shooting, which took place in front of three of Mr. Blake's kids, in a video that circulated widely and quickly on social media. Outrage erupted exponentially, rekindling the national social justice demonstrations that followed George Floyd, Elijah McClain, Breonna Taylor, and many
Kenosha, Wisconsin police responded to a 9-1-1 call about a "domestic incident" on August 23. The female caller reported that her "boyfriend" Blake had stolen her car keys and was refusing to give them back. Blake had a warrant for his arrest based on charges of third-degree sexual assault, trespassing, and disorderly conduct in connection with domestic abuse. Blake was armed with a knife when police arrived on the scene. Two officers used tasers to subdue Blake, and he put one of the officers in a headlock, while ignoring orders to drop the knife. Blake's attorneys disputed this version of events, calling it "overblown", and saying that the police officers were the aggressors. Blake also claimed that the officers were aggressors and immediately became physical with him. After an initial scuffle, Blake walked to the driver's side of his vehicle, followed by officer Rusten Sheskey and another officer with handguns drawn. When Blake leaned into the car, officer Sheskey fired seven shots towards Blake's back.
Blake was flown to Froedtert Hospital in Wauwatosa, Wisconsin. His father announced on August 25 that Blake was paralyzed from the waist down and that doctors did not yet know  if it would be permanent. He also suffered a gunshot wound to one arm and damage to his stomach, kidney, and liver. Blake later admitted that he "wasn't thinking clearly" and picked up a knife during the altercation, although he denied having the intent to use it.
Protesters marched in Kenosha, Wisconsin, to express their anger at the decision not to punish a white police officer for shooting a Black man, Jacob Blake, in the back from close range last summer, in an incident that triggered a violent uprising on a Tuesday, August 24th. The rally followed Tuesday's declaration by prosecutors that the officer, Rusten Sheskey, would not face charges despite Jacob Blake being fshot  in the back. Blake survived the shooting, but he was left crippled from his waist down. Sheskey said that he behaved in self-defense as he feared Blake would stab him with a knife he was holding.
The decision not to bring charges caused outrage  among the protestors. Even though the march was peaceful, with a group of about 50 people chanting "Wake up, Kenosha" and "Seven shots in the back." No, that ain't right" before gathering outside the Kenosha county administration complex. The Milwaukee Bucks boycotted their first-round playoff game against the Orlando Magic on August 26 and allll NBA games for that day were postponed. This led to boycotts by the Women's National Basketball Association (WNBA), the Major League Baseball (MLB), the National Hockey League (NHL), and the Major League Soccer League, among other American sports leagues (MLS).
On January 14th, 2021 Jacob Blake had an appearance on "Good Morning America." In the interview he had told his side of the story and what was going on in his mind when the shooting happened. After that interview was published, people stated their opinions on many social media platforms about the incident. Many have shared their and support for Jacob Blake's family as well.
Statistics show that 1 out of every 1,000 black men can expect to be killed by the police over the course of their lives. The risk of murder by the police for men and women and for all racial and ethnic groups increases between the ages of 20 and 35. Statistics also show that Black women and men, American Indian and Alaskan Native women and men are much more likely than white women and men to be killed by the police. Also, Latino men are more likely to be killed by the police than white men. The number of cases where the use of force by police  against people of color is getting more and more attention across the nation. Jacob Blake's case was just one of the incidents where deadly forces was used. Breonna Taylor, George Floyd, and Manny Ellis in Tacoma are just some of many others in the news.