Biden Gradually Picks His Cabinet Members for Upcoming Presidency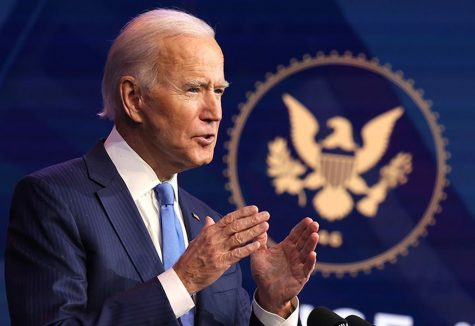 America's President-Elect, Joe Biden, is building his cabinet for January 20, 2021. His choices involve a total of 15 department executives among other posts in his branch, such as White House Chief of Staff, CIA Director, Environmental Protection Agency Administrator, Small Business Administrator, Attorney General, Office Management and Budget Director, US Ambassador to the United Nations, Director of National Intelligence, Council of Economic Advisers Chairman and States Trade Representative Ambassador. 
 Every Cabinet positions requires Senate confirmation. So far, here are chosen cabinet members:  
Vice President: Kamala Harris

 

Secretary of State: Antony 

Blinken

 

 

Secretary of Treasury: Janet Yellen

 

Secretary of Defense: General Lloyd Austin

 

Secretary of Agriculture: Tom Vilsack 

 

Secretary of Health and Human Services: Xavier Becerra 

 

Secretary of Housing and Urban Development: Marcie Fudge

 

Secretary of Veteran Affairs: Denis McDonough 

 

Secretary of Homeland Security: Alejandro Mayorkas 

 

Chief of Staff: Ron Klain 

 

Office of Management and Budget Director: Neera Tanden 

 

US Trade Representative: Katherine Tai

 

National Intelligence Director: Avril Haines 

 

National Security Adviser: Jake Sullivan 

 

Ambassador of the UN: Linda Thomas-Greenfield

 

Chairwoman of Council of 

Economic

 Advisers: Cecilia Rouse

 

Special Presidential Envoy for Climate: John Kerry 

 

Communications Director: Kate Bedingfield 

 

Press Secretary: Jen Psaki 

 
 Kamala Harris, Ron Klain, Jake Sullivan, John Kerry, Kate Bedingfield and Jen Psaki are the only confirmed cabinet members.  
 Major picks will be announced in the coming weeks, such as Attorney general and CIA Director. Although there is hope for each confirmation on Biden's team, the GOP is expected to meet with strong opposition.  
 This presidency will involve more women and people of color compared to predecessors and is expected to tackle major issues such as Covid-19 and climate change. With a little over a month until his inauguration, Biden will continue to release his picks for cabinet officials.